Journal of Motion and Sound now shipping
- Nick Gaydos [ 6/15/2005 - 00:24 ]
#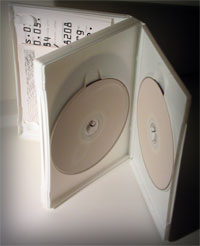 For those of you who pre-ordered JOMAS last week, it begain arriving on door steps and mailboxes Tuesday.
For those of you who didn't pre-order, we still have a few low edition packages left with issue numbers under 50.
JOMAS is available for sale online for $35.00 USD. JOMAS includes:
1 Sound CD full of Music, Poetry, and Sound Installations
2 Motion DVDs of Experimental Film, Animation and Documentaries
Liner Notes
White Triple Disc Packaging with a handpainted "jomas dot logo" cover
You'll find work by Outside Circle artists such as:
Abraham Olguin, Andrew Patterson and Dustin Edwards, Animal, Anne Delmariani, Antonio Zirión, Arctic Circle, Ben Gaydos, Bryan Bickel and Scott Pruett [Init], Christopher Irvin, Dan Gorman [DanSiezure], Evie Wright / Nick Lyon, Hernán Apablaza, Hugh Hartford, Jancee Warnick [The Jancee Pornick Casino], Jenn Brigham, Ben Gaydos, Nick Gaydos and Alison Lugo, Jim Ryan and Deon Foster [shenanigans.tv], Julia Yezbick, Julie Meitz, Louis Rawlins, Meck [Featuring Jean Lee], Nayiri Bardakjian, Outside Circle Collective (vocals by Rachel Yezbick), Paul Gabel, Pilvari Pirtola, Potter-Belmar Labs, Radio Ruido, Ryan Seslow, Stargrazer, Thatshim!thatstheguy!, The Argyle Wishlist, Tim Lane, Tony Gault, Whitehorse, and Zev Robinson.
Get your copy today!
Announcements
Artists
Arts - Movies and Film
Arts - Music
Arts - Performing
News, Events and Media
OCC Artists
OCC News